Phurnacite:

Phurnacite is a hard, compact and slow burning smokeless fuel for cookers, stoves and room heaters.
The hard, clean phurnacite briquette with its unique double groove, gives long lasting, consistent, controllable heat.
hurnacite will burn steadily (slumber) for over 18 hours, given right conditions.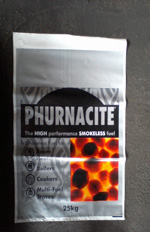 Safety Advice for your Fire:
Always Follow your appliance manufacturers guidelines.
Never leave an Open Fire unattended without a fireguard.
Use the correct fuel as suggested by your manufacturer.
Always have your chimney swept at least once a year.
If you smell fumes, open a window & have your appliance checked by a competent engineer.
For further information, go to our Safety Advice Guide.