Homefire: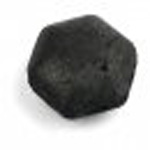 Homefire is the market leader for over 40 years and has been acknowledged as the best smokeless fuel for open fires and multi-fuel stoves.
Homefire generates a lot of heat and leaves behind very little ash. It combines all the traditional qualities of a real fire, is slow burning and easy to control. What's more, it produces a fraction of the smoke and less carbon dioxide than coal.
Powerful - Excellent sustained heat output.
Long Lasting - Lasts up to 40% longer than traditional house coal.
Environmentally-friendly - Up to 80% less smoke and 25% less CO2 emissions than traditional housecoal.
Attractive - Good flame picture.
Clean - Little residual unburnt fuel.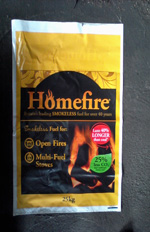 Safety Advice for your Fire:
Always Follow your appliance manufacturers guidelines.
Never leave an Open Fire unattended without a fireguard.
Use the correct fuel as suggested by your manufacturer.
Always have your chimney swept at least once a year.
If you smell fumes, open a window & have your appliance checked by a competent engineer.
For further information, go to our Safety Advice Guide.