Anthracite Small Nuts: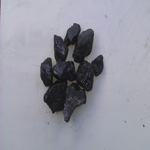 Anthracite Small Nuts are a very popular natural smokeless fuel. Anthracite Nuts have a low flame and creates a small amount of ash making it ideal for use in Roomheaters and cookers and similar appliances.
Anthracite is a very clean fuel making it ideal for use in glass fronted appliances. It's also highly reliable producing a uniform flame at a consistently high temperature.
Anthracite Nuts are suitable for burning in Smoke Controlled Areas.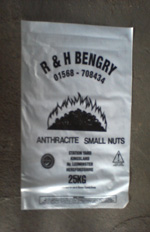 Safety Advice for your Fire:
Always Follow your appliance manufacturers guidelines.
Never leave an Open Fire unattended without a fireguard.
Use the correct fuel as suggested by your manufacturer.
Always have your chimney swept at least once a year.
If you smell fumes, open a window & have your appliance checked by a competent engineer.
For further information, go to our Safety Advice Guide.