Newheat:

Newheat is an quality large manufactured briquette. It is long lasting and provides an easily controllable heat source. It has a high heat output and is suitable for burning in smoke controlled areas.
Newheat is easy to light, burns with an attractive flame and has low ash.
Newheat is suitable for use on both closed appliances, like a multi-fuel stove or an open fire.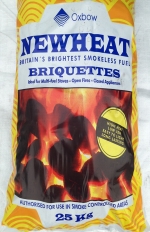 Safety Advice for your Fire:
Always Follow your appliance manufacturers guidelines.
Never leave an Open Fire unattended without a fireguard.
Use the correct fuel as suggested by your manufacturer.
Always have your chimney swept at least once a year.
If you smell fumes, open a window & have your appliance checked by a competent engineer.
For further information, go to our Safety Advice Guide.