Maxibrite: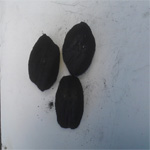 Maxibrite is a high quality smokeless briquette.
Maxibrite has a high heat output, clean burning, low ash content and easy to light. Maxibrite provides an excellent value for money fuel choice.
Maxibrite is a small 'ovoid' and bears a distinct 'M' brand on the briquette.
* WE ARE CURRENTLY OUT OF STOCK OF MAXIBRITE *
Please contact us if you would like to make a special order.
Safety Advice for your Fire:
Always Follow your appliance manufacturers guidelines.
Never leave an Open Fire unattended without a fireguard.
Use the correct fuel as suggested by your manufacturer.
Always have your chimney swept at least once a year.
If you smell fumes, open a window & have your appliance checked by a competent engineer.
For further information, go to our Safety Advice Guide.